Volunteer
If you or a group would be interested in a service project or just want to help out during the week, please fill out the information below and we will contact you.
Connecting With Us
Sign-up and be apart of our volunteer family that helps year round to continue the great work of Christ at Camp Carl!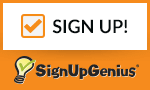 Upcoming Service Saturdays
April 13th.
April 27th
May 11th
Volunteer Kitchen Help Needed for the Summer
Pick a meal, pick a day, pick a meal a week, pick several meals a week…you can sign-up for what you can do.
Click on the SignUpGenius then find Kitchen Volunteers.